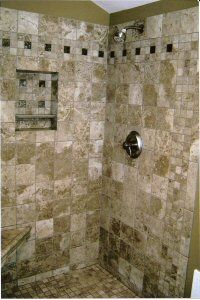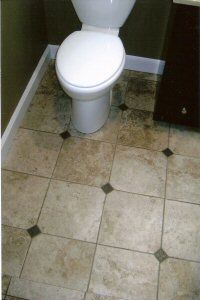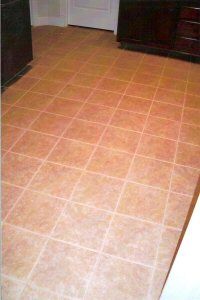 Tile Floors, Backsplashes, and Countertops

Tile has always been a versatile and highly durable surface to use in kitchens,
baths, showers, entryways, and other high traffic frequently wet areas. At
GS Precision Construction Inc we have installed tile and associated concrete
fiber backerboards to many surfaces in many desings, only limited by
your and our imagination.  From simple square set floor tiles, to intricate designs
inlayed with small glass or cast tiles, sloped shower pans, inset shower displays, bench seats, functional kitchen backsplashes, wrapping old brick fireplaces, to beautiful granite tile countertops we've done it all.   Shown in the surrounding pictures are some of the different tile jobs that we have completed.   
Questions you may ask when considering tile may be things like:
What is the price of tile vs other types of flooring?
How will adding tile to the floor affect transitions into other existing floor coverings? What type of setting pattern should we use?  Advantages and disadvantages of natural stone tiles vs porcelain and ceramic?  How long will the whole process take?  What width of grout lines looks the best for different surfaces?  These questions and any others you may have, we'll happily answer for you during your initial consultation. 
So if your ready to take the next step give GS Precision Construction Inc a call!